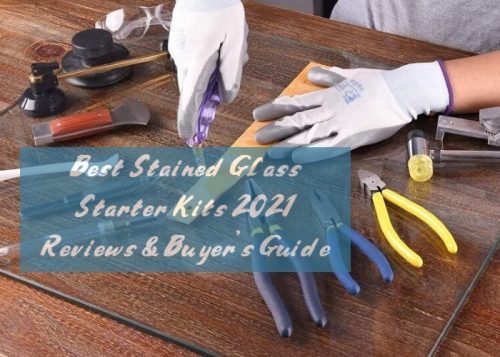 Stained glass making can be a very fun and exciting hobby. But the craft uses a ton of tools and supplies, enough to make a beginner's head spin. And that's where starter kits save the day – they have an assortment of the essential supplies and tools you need to create your first stained glass project. They save you time, effort, and money while providing guidance to let you create beautiful stained glass items from the get-go.
We have examined multiple stained glass art kits on the market and have narrowed our selection to the four best stained glass beginner kits. Any of these tool kits will lower the learning curve and build your skills quickly.
Our Picks for Best Stained Glass Beginner Kits
1. Stained Glass Start-Up Kit – Best Value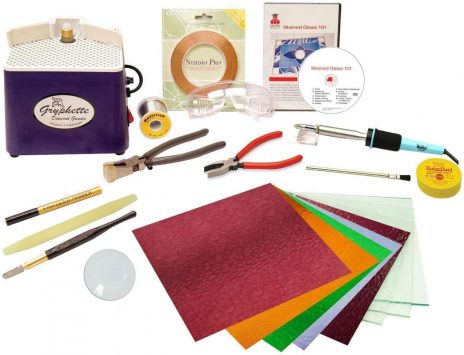 The Stained Glass Start-up kit is ideal for the perceptive beginner craving quality tools on a budget. The kit contains several name-brands that are renowned for superior tools.
We dig the Weller 100 watt soldering iron, pencil-style glass cutter with a carbide wheel, the Gryphette glass grinder, and the grozer pliers. The kit has everything you need to get started in cutting stained glass, including a glass pack with assorted glass sheets.
The choice of supplies in this kit includes copper foil to let you push the limits and create beautiful stained glass art.
All in all, the high-quality tools in stained Glass Start-up kits give you the best bang for your buck and let you hit the ground running. It's also one of the best stained glass craft kits for adults.
Pros
Contains quality tools
Adequate basic supplies
An info kit with a list of helpful websites
Glass pack with assorted sheets
Cons
2. Deluxe Stained Glass Tool Kit- Best Budget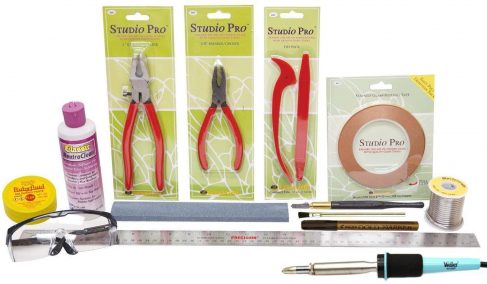 The Deluxe stained glass toolkit is ideal for beginners who want to cut their teeth in cutting stained glass without breaking the bank. This barebone starter kit includes quality tools and supplies to get you started.
We're particularly delighted that tools in the kit include a Weller 100-watt soldering iron, supercutter glass cutter, studio Pro breaker, and running pliers. These are reputable brands renowned for their quality and durable tools.
The choice of consumables is impressive, down to an adequate amount of 60/40 solder, flux and flux cleaner, and copper foil. These supplies will see you through the first couple of projects with no need to restock.
The Deluxe tool kit is an excellent choice for the curious beginner looking to explore stained glass art. The price range allows you to cut your teeth without breaking the bank.
Pros
Superior choice of hand tools
An adequate supply of consumables
Budget-friendly
Perfect for home use
Cons
3. Ultimate Stained Glass Start-Up Kit- Best Premium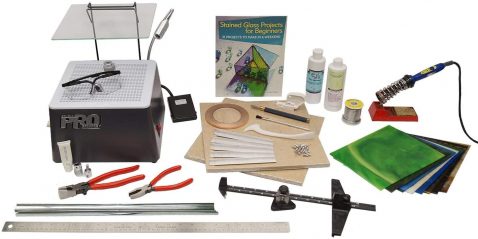 The Ultimate stained glass start-up kit is for the budding stained glass artist who needs nothing but the best. The bells and whistles on this kit make for a smooth learning experience while lowering your learning curve.
The tool selection in this starter pack is simply impressive. It comes with a glass grinder from Glastar, soldering iron from Hakko, and a supercutter glass cutter. Other notable tools include running and grozer pliers, homosote boards, a ruler, and a soldering iron stand.
In addition to the basic supplies, it includes some over-the-top picks such as zinc came, pre-tinned wire, anti-seize lubricant, glass polish, and more.
The starter kit prioritizes your safety to include a face shield with a lens, safety glasses, and a detailed instructions book.
It's the ideal starter kit for professionals who are looking to set up a dedicated stained glass studio. It covers all the essential items and goes further to include some extra tools and accessories. The diverse range of tools and supplies in this kit might be a tad overwhelming to the absolute beginner.
Pros
Superior quality tools
A diverse selection of items
Adequate safety supplies
Cons
4. Deluxe Stained Glass Start-Up Kit – Honorable Mention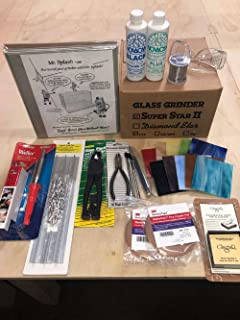 The Deluxe Stained Glass making kit is the perfect gift for a budding stained glass artist. The bare bone starter kit contains an assortment of tools, supplies, and accessories to delight a stained glass enthusiast.
We're particularly delighted by choice of tools in this kit. It includes a glass grinder from Glastar, a 120-volt soldering iron from Weller, a glass cutter from Toyo, running and breaker pliers.
We like that it comes with generous amounts of supplies. It contains 8 ounces of flux, lead & solder, a pound of 60/40 solder, and different sized copper foil strips. The ten pieces of assorted glass are a highly welcome addition that saves you additional purchase.
This starter kit carries everything you need to get started with stained glass. The admirable collection of quality hand tools will let you build your stained glass cutting skills quickly while producing great art.
Pros
Nice selection of tools
Adequate supplies
Assorted glass pack
Cons
Things to Look for When Choosing a Stained Glass Starter Kit
Tools & Supplies included
Having the right tools and supplies is crucial in stained glass crafting.Typically, the pricing point determines the number of tools and supplies in a starter kit. Some beginner kits are bare-bones, while the premium ones contain additional tools to speed things along.
It's also important to pay attention to the tools selection to ensure they're from a reputable brand.
Here's the breakdown of the essential items you'll need for stained glass crafting:
Hand Tools
As a hands-on craft, stain glass cutting and design uses several hand tools. These are handheld tools that you'll use to cut and shape stained glass. The primary hand tools are glass cutters, pliers, and soldering iron. It's essential that you pick quality hand tools because they can make or break your stain glass adventure.
Glass Cutter. It's a vital handheld tool containing the cutting wheel to cut the stained glass and allow clean breaks. A quality cutter allows clean cuts and avoids waste.
Breaker/Grozer Pliers. It's your best friend because the ridges inside the jaws let you file down the tiny shards on the edges of the cut pieces.
Running Pliers. Adjustable pliers with curved jaws accommodate varying glass thickness and deliver to a consistent break line.
Soldering iron. A 100-watt soldering iron gets hot enough to meet all your stained glass soldering needs. It resembles a wand and joins two pieces of metal with its heated metal tip.
Flux brush.A basic disposable brush will suffice to clean the foil and lead surfaces with flux before soldering.
Power Tools
The introduction of power tools such as diamond glass grinders and saws lead to the stained glass craft skyrocketing in the 70s. Power tools allow a novice to create stunning pieces of work from stained glass. Other power tools include bench burners and annealers, foiling tools, and kilns.
Glass Grinder. This power tool  is among the most expensive items in a starter kit. It lets you fine-tune the cut pieces, so they're a perfect fit in the stained glass project pattern.
Ring and band saw.
Supplies/Consumables
Consumables are items that get used up while creating stained glass art. Standard stained glass consumables include solder, copper foil, flux, lubricating oil, glass polish, lead came, and more. The best stained glass starter kit contains all the consumables you need to start and finish a project.
Glass Pack. A set of various colored glass sheets with different textures to kickstart your projects.
Copper Foil. It's used to wrap the edges of cut stained glass piecesand create intricate designs with tiny glass pieces. It's available in various thicknesses and has an adhesive strip at the back.
Solder. The 60/40 solder – 60% tin and 40% lead – is used to hold foiled stained glass pieces together.
Flux. Flux is a cleaning chemical that you must use to clean the surface of the project you wish to solder.
Size and Weight
The size and weight of a starter kit determine its portability. If you don't have a dedicated working space, you're better off with a lightweight kit. The kits' size and weight boils down to the tools it contains and the material used to make them. Most stained glass starter kits fall in the 15 to 25 pounds range.
Protective Equipment
Using power tools on stained glass often sends shards flying all over. The best kits include Safety Glasses & Gloves to keep your eyes and hands safe from glass shards and sharp edges.
Price
For obvious reasons, price is a priority consideration when buying a stained glass kit. The cost of a starter kit for stained glassartists ranges from $150 to more than $1,000. The best stained glass start kits strike a delicate balance between your skills, experience, and desired price tag.
Final Thoughts
Any of these four kits will let you cut your teeth in the art of cutting glass and hone your skills. The accompanying buyer's guide contains tons of helpful information to help make the right choice. Ultimately, the best stained glass beginner kit should strike a balance between your skills, interest, and budget.