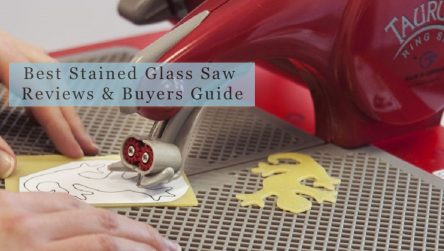 As you progress in stained glass crafting, so does the urge to get creative and build complex projects. You'll soon experience the urge to add intricate glass shapes and create stained glass projects with the tricky rippled, drapery, or fused glass.
The best stained glass saw lets you retain the precision and control of a glass cutter. Avoiding wastage while working with difficult stained glass materials is a sign of true craft mastery. As an added advantage, a glass saw lets you cut through a stack of stained glass layers without breaking a sweat. Glass cutting saws save time when making lamps or working with a bunch of identical pieces.
But only the best stained glass saw can deliver this level of convenience and let you produce remarkable pieces. Having the best wet saw for cutting glass lets you kick your skills into high gear since you can work with any glass material.
Our Top Picks
Best Stained Glass Ring Saw: Gemini Taurus 3 Diamond Ring Saw
Best Stained Glass Band Saw: Gryphon C-40 Band Saw

 

Best Stained Glass Wire Saw: Gryphon Omni-2 Plus Wire Saw
Things to Look for When Choosing a Stained Glass Saw
A good glass cutting saw lets you cut glass materials that are nearly impossible to cut by hand, such as fused stained glass, with ease and precision. But with so many options available on the market, picking the right one might be a bit challenging. Here are some of the critical considerations when buying the best stained glass saw.
Types of stained glass saw
There are three main types of glass cutting saws, all water-cooled to keep the glass from breaking.
Ring saw. The versatile saw uses a cutting blade made from a rigid steel ring to cut all types of glass. The blade, which is about 10-cm in diameter, spins at high speed and cuts in all directions – side to side and back and forth. Ring saws are excellent for cutting intricate curves and through thick glass.
Band saw. A band saw uses a flat metal blade tipped with a diamond edge and cuts in only one direction. It's more affordable than a ring saw and suitable for high production work. This saw is a bit delicate, but it's superior to a wire saw when cutting out fancy shapes.
Wire saw. A wire saw resembles a ring saw, except the blade is straight and moves up and down instead of spinning. Since a wire saw cuts in all directions, it is great for cutting intricate patterns with sharp curves. It's cheaper than the rest but uses cheap replacement blades.
Blade Material
The choice of wet saw blade material determines efficiency when cutting stained glass. You have a choice of two materials:
Diamond-coated blades. These blades are impregnated with industrial diamonds for a sharp and durable edge to deliver a smooth cut. These blades are best-in-class – sharp, strong, and durable.
Steel blades. These are commonly found on wire and ring glass saws. Although they deliver clean cuts, they're delicate and less durable than the diamond-coated ones.
Size & Working Surface
Size is an important consideration when buying a diamond saw for glass cutting because it affects the working surface. The size of the saw affects storage but, most importantly, your safety. A small working surface jeopardizes your fingers while cutting glass and limits your ability to cut huge sheets of stained glass. The best stained glass saws let you switch the tables to suit your needs.
Power
High-speed cutting is desirable when using a stained glass saw because it not only lets you get more done in less time but primarily because it affects the quality of the cut. The best glass cutting saws are rated higher than 100 volts. A powerful saw cuts through all glass types and other materials such as tile, wood, porcelain, and stone.
Cooling
Wet saws are ideal for cutting stained glass because cutting action generates a lot of heat. The blade passes through water for cooling – a cool saw blade keeps the stained glass from cracking. The best wet saw for cutting glass has a reservoir that recycles the water and doesn't need constant refilling.
Accessories
Diamond saws for glass cutting are paired with a host of accessories that improve safety, convenience, and cutting accuracy. Switchable cutting tables and extra saw blades are necessary accessories to look for when buying a saw.
Budget
You get what you pay for when buying a glass cutting saw. The high-end models are naturally safer to operate, allow more cutting angles, deliver a smooth edge, use better saw blades, and cut a wide range of materials. They're well-engineered and made with superior materials for many years of glass cutting efficiency.
Best Stained Glass Saws – Our Picks
Here are our top 3 picks for the best stained glass saws.
1. Gemini Taurus 3 Diamond Ring Saw – Best Glass Ring Saw
The Gemini Taurus 3 Diamond ring saw is the perfect choice for the artist who demands nothing but the best. Durable and hardy, this saw with a circular blade lets you tackle any stained glass project like a pro.
The spacious working surface and a rotating ring blade make cutting small intricate pieces a breeze. The inbuilt spotlight increases visibility to cut with accuracy and precision while the reservoir water tanks keep the blade cool to avoid wastage.
While the powerful motor lets you cut through any stained glass material, there's a steep learning curve to cutting small intricate designs. However, the saw's ease of handling and superior engineering lets you practice and refine your craft without interruption.
It's a little bit of time to get the hang of this ring saw, but once you've built your mastery, the sky is the limit to the stained glass projects you can undertake. The saw will cut through practically anything you pass through it, including bronze, gold, brass, and stainless steel.
Pros
Cuts through all materials
Well-built and durable
Lightweight with an inbuilt water reservoir
Cuts intricate curves and patterns
Cons
2. Gryphon C-40 Band Saw – Best Glass Band Saw 
The Gryphon C-40 band saw is the perfect choice for the skilled stained glass artist who wants excellent cutting speed without sacrificing control while working with expensive glass. This diamond saw for cutting glass has a minimal kerf to let you cut out intricate patterns on small glass pieces.
The Gryphon C-40 couples a thin stainless steel blade with a diamond-tipped edge and a generous working surface to give you exceptional control. It bursts all myths to let you create small designs with intricate patterns despite moving in one direction.
An exceptional design, thoughtful engineering, high-speed motor, and an inbuilt water recycling tank lend exceptional cutting power to this bandsaw. Its intuitive controls lower the learning curve and eliminate wastage.
This wet band saw is the perfect choice when cutting expensive glass. It has minimal waste and will give you exceptional control when working with small pieces without limiting your design choices and creativity.
Pros
Thin diamond-studded thin saw blades
Minimal wastage of cutting materials
Exceptional control and handling
Cuts intricate designs on small pieces
Cons
3. Gryphon Omni-2 Plus Wire Saw – Best Glass Wire Saw
The Gryphon Omni-2 Plus wire saw is ideal for a stained glass artist who craves superior cutting power, control, and speed. This indestructible wire glass saw pairs a high-speed motor with durable components to serve you for a long time.
The generous working space coupled with a strong wire blade coated with diamond grits delivers a flawless edge. It cuts intricate patterns on all stained glass of all thicknesses and textures. Deep and sharp inside curves or shapes with difficult angles are not a threat since the saw cuts in all directions.
Quality build and materials make the saw a quality purchase that cuts stained glass for years without expensive maintenance costs. We dig that it comes with 6 additional saw blades, a spare chuck, and a set of blade guides.
All in all, the Gryphon Omni-2 Plus wire saw gives you the best value for money. It'll deliver years of maintenance-free performance and saves you the cost of buying additional saw blades.
Pros
Durable and maintenance-free
Durable diamond-coated blades
Built-in recycling water pump
Built-in spotlight
Con
The best stained glass saw lets you cut through textured, fused, or thick glass with the precision of a stained glass cutter. They use diamond-coated blades or steel blades to make long straight cuts or cut out intricate patterns quickly. Glass saws grow the berth and creativity of your stained glass projects.