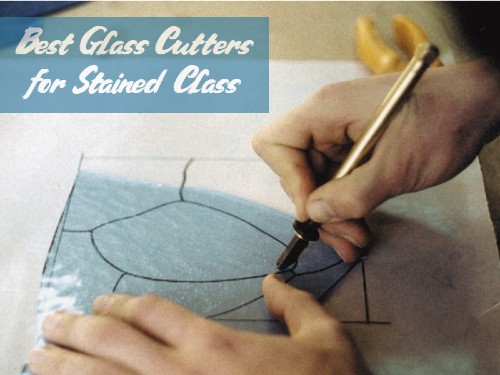 Working with stained glass is a delicate yet rewarding craft, but only if you have the best stained glass cutter. Whether you're a seasoned pro or a budding newbie, superior glass cutting tools can improve your craft to let you create masterpieces.
If you're a fan of efficiency like us, you crave the sharp and precise cuts of a superior cutter. You have no time for inferior tools that only serve to ruin your material.
That said, the best glass cutter feels like an extension of your arm. You get to wield it like a maestro and excel in the art of stained glass.
We've made quick recommendations on the top-rated glass cutters for stained glass and everything you need to know when buying one. Let's get to it!
Our Top Picks
Things to Look for When Choosing a Stained Glass Cutter
Stained glass cutters come in various shapes and sizes, which makes getting the right one a tad challenging. For the best results when shopping for a professional glass cutter, consider these critical factors.
Type of Handle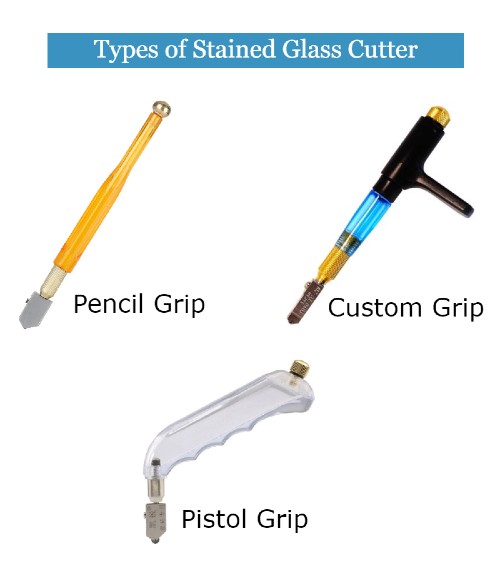 The handle on your glass cutter matters because the way you hold the tool determines your cutting accuracy. The best stained glass cutter nestles in your hand and becomes an extension of your hand. Ideally, you need 2 to 5 pounds of finger pressure to cut a glass sheet. The best handles allow you to apply that much force without the risk of injury.
There are three types of handles, and which type you choose is largely a matter of preference.
Pencil Grip. Also known as Comfort Grip Supercutter, pencil grip glass cutter has a thin, elongated handle that resembles a pencil. You hold the tool as you would when writing with a pencil. It's ideal for general usage and are favored by seasoned pros.
Pistol Grip. The handle resembles the grip of a pistol, hence the name. They're large and contoured to fit in your hand to the application of arm strength while cutting. Pistol grip glass cutter is ideal for beginners and those who have with wrist or hand strength issues.
Custom Grip. These are glass cutters with a modified pencil grip handle with an adjustable saddle. The saddle rests between your fingers or palm to give you extra control and leverage while you work.
Cutting Wheel Material
Cutting wheels are 4-6 mm in diameter and can be made from tungsten carbide or hardened steel. The cheaper steel wheels are most common, but they tend to dull faster.
Tungsten carbide is a tungsten and steel alloy – twice as stiff as steel, twice as heavy, and extremely hard. Professional Glass cutters are usually made with tungsten carbide wheels. They are pricier for sure, but they're more durable, sharper, and produce precise cuts.
Self-oiling Capabilities
Stained glass cutting tools produce a lot of heat and it affects the scoring accuracy. Applying oil to the cutting wheel keeps it cool as you work and delivers sharp scores.
The best stained glass cutters are self-oiling – they have an oil reservoir built into the handle. The self-lubricating system comprises a compressible head, an oil reservoir, and a wick connecting the oil tank to the wheel.
Compressing the head on the cutting material pushes the cutting wheel against the wick, triggering the oil to flow down.
Dry glass cutters lack the self-oiling mechanism, which calls on you to oil the head while you work. Storing dry cutters in oil produces excellent results.
Price
Price is a crucial consideration when buying a professional glass cutter. A cutting tool's price is pegged on its material, construction, design, and other features.
With glass cutters, you get the features you pay for. Naturally, cutters on the higher end of the price prism are more durable and easier to use. They're likely to deliver superior cuts than their cheaper counterparts.
It's worth splurging a little more cash to acquire a durable tool that will last you for many years.
So what's the best glass cutter for stained glass, really?
Now that we have examined the different types and features of glass cutters for stained glass, lets take a look at some of the best glass cutters available.
#1. Toyo Custom-Grip Supercutter Glass Cutter – Best Overall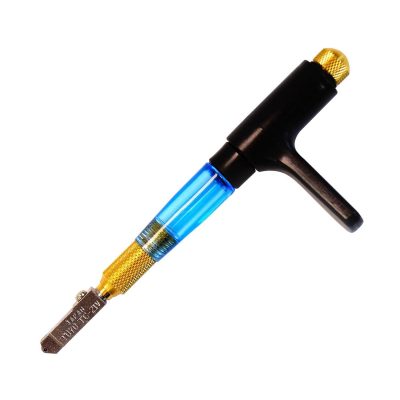 The Toyo custom-grip supercutter is the best choice when you crave more control, leverage, and comfort. Granted, it's not the cheapest option, but superior build, handling efficiency, and durability make it a worthwhile purchase.
One outstanding feature of the Toyo supercutter is its adjustable grip handle that eliminates fatigue. The saddle snuggles between the index finger and thumb, so little pressure is needed to use the tool.
Easy and precision handling coupled with a carbide steel wheel results in cleaner scores with easy breakouts. The unique, pressure-based lubrication system delivers just the right oil amounts to reduce friction for consistent score lines.
The Toyo custom-grip supper cutter is perfect for the stained glass fabricator craving consistent performance and willing to pay for a superior tool with a long lifespan.
Pros
Custom-fit to avoid wrist strain and injuries
Ideal for oil-fed and dry cutting
Excellent scoring accuracy
No-mess self-oiling mechanism
Cons
Pricey, but its durability and superior features make the tool worth every penny.
#2. Toyo Brass Oil Fed (TC-10) Pencil Grip – Best Pencil Style Glass Cutter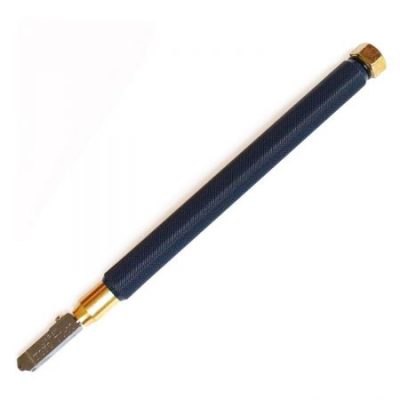 The Toyo Brass Oil Fed pencil style glass cutter is best for a professional glass artist or hobbyist with a steady hand and excellent wrist control. Sure, this glass cutter is heavier than most, but scoring accuracy is off the charts when working on detailed pieces.
A cross-hatched barrel handle provides a sure and comfortable grip for easy handling. Brass construction makes it weighty but not obscenely heavy that it'll affect handling. The self-feeding lubricating system drips oil on demand for clean, precise scoring lines.
The replaceable carbide steel cutting wheel delivers a deep, consistent score line on stained glass, while the knocking head ensures clean breaks to avoid wasting materials.
All in all, this hefty pencil grip is best suited for a seasoned hand. It'll stand the test of time and deliver clean, accurate cuts for more than 30 years. At this price range, this tool is a steal.
Pros
Superior build with quality materials
Outlives regular cutters by 25X
Hefty for precision handling
Pressure-fed self-oiling system
Cons
It weighs 3.2 ounces, but the heft allows for greater control and handling for precise and detailed scoring.
#3. IMT Pistol Grip Oil Feed Glass Cutter – Best Pistol Grip Glass Cutter
The IMT pistol grip, self-oiling glass cutter is perfect for beginners or anyone with wrist-mobility problems. It packs a lot of lots of valuable features for its pricing point.
Its durable tungsten carbide cutting wheel allows for precision-cutting on all types of glass. The comfortable plastic grip uses the entire arm for leverage to avoid fatigue and injuries. It comes with two heads – a narrow head for intricate work and a broad one for scoring thick glass.
The in-built reservoir holds plenty of oil for long, uninterrupted working sessions. The round metal knocking head snaps scored glass cleanly to avoid wastage.
While efficient, this pistol-grip, oil-fed stained glass cutter takes getting used to. It takes a bit of practice to control the oil flow, but mastery comes with practice. At this price, this stained glass cutter the perfect bargain.
Pros
Lightweight and ideal for beginners
Comfortable plastic grip for easy handling
Tungsten carbide wheel for cutting precision
It cuts up to 20,000 meters of thick glass
Cons
Oil can be messy, but it allows for sharp and accurate scoring
#4. Glastar Strip and Circle Glass Cutter – Best Circular & Strip Glass Cutter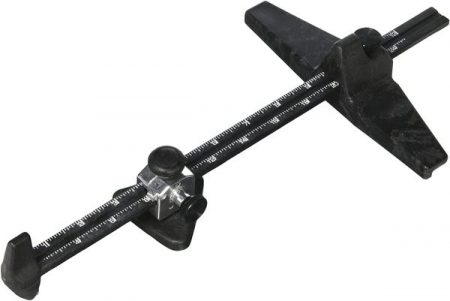 The Glastar Strip & Circle cutter is ideal for making circles or long strip cuts on stained class.
A calibrated T-bar with an adjustable locking mechanism allows cutting-precision in a short amount of time. The built-in 3-point base provides solid anchorage on rough textured glass surfaces. The turret has six cutting wheels and rotates to the next position when a cutting wheel becomes dull.
This strip and circle cutter delivers precise and reproducible results each time. It's the best circular glass cutter in this price range and will become a staple in your cutting kit.
Pros
Perfect for making circles or long strips
Excellent anchoring system
Multiple, replaceable cutting wheels
Cons
Requires a wooden base which is not provided, but it comes with detailed instructions on how to create a custom base.
Stained Glass Cutter FAQs
1. How long does a glass cutter last?
An adequately maintained stained glass cutter with a tungsten carbide wheel can last for a lifetime. The lifespan of cutters with hardened steel cutting wheels boils down to usage and maintenance. Heavy use will wear out even the best-maintained hardened steel cutting wheels.
2. How to use a glass cutter?
Hold the stained glass cutter firmly in your hand and roll it firmly over a sheet of glass. The cutting wheel produces a fissure or a score line and creates a line of weakness. Tap the glass lightly along the cutting line with the ball on the opposite end to split the glass.
3. What kind of oil do you use to cut stained glass?
The best oil to use when cutting glass, in order of importance, includes glass cutter oil, sewing machine oil, kerosine, and vegetable oil. Glass cutting oil is the best and has no downsides, unlike the other oils. You can use any vegetable oil but only as a last resort.
4. How do I maintain a glass cutter?
Always clean and lubricate the cutter after each session. Never drop a stained glass cutter on the floor as it could cause a burr on the wheel and cause it to cut erratically. You can replace a worn steel wheel or consider replacing the entire head of the glass cutting tool.
Conclusion
I can't help but love the Toyo Custom-grip Supercutter for all stained glass crafts. It pairs easy handling with a superior build for endless hours of comfortable glass scoring. Adjusting handle placement is priceless for beginners or working with intricate designs.
Have you tried any stained glass cutting tools mentioned here? Comment below and let me know!