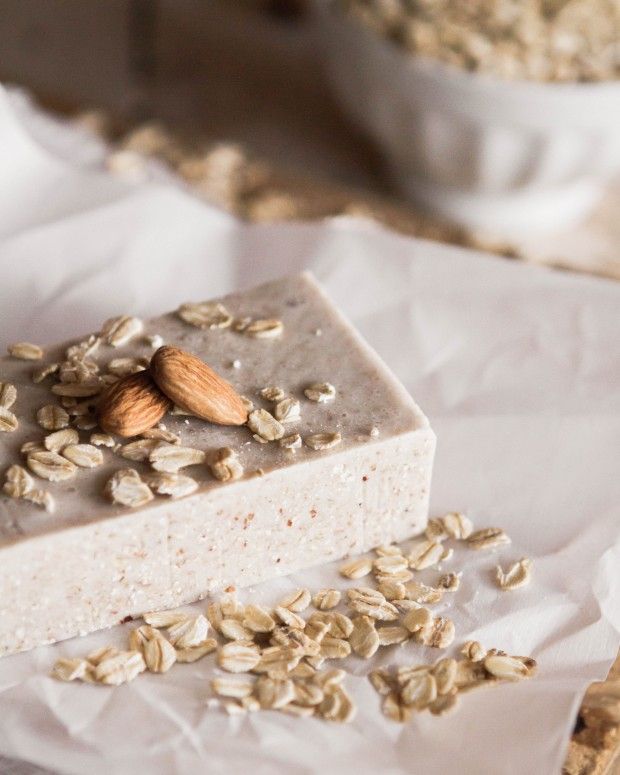 Truly homemade soap is one of those DIY projects that not only takes a very long time, but could potentially harm you. Not the best introduction to a do-it-yourself  project, eh? Well, that's why I'm showing you this super-easy, half-homemade soap recipe first. This is the boxed-cake version of homemade soap, and it skips the month-long, potentially skin-eating, stage of soap making, and skips straight to the fun, add-your-own-scents-and-ingredients stage. While I do plan to show you how to make soap completely from scratch eventually, let's start with this delicious (delicious smelling – please don't eat this) recipe for almond oatmeal soap.
How do we skip the lye stage? By buying a glycerin soap base from your local crafts shop. What's the benefit of this? For one, you get to choose your own scents and ingredients, and two, you'll save yourself a big chunk of change by making these instead of buying fancy soaps at some fancy soap shop – if you can't tell, I don't often buy fancy soaps, so I'm not sure if a fancy soap store is even a thing. I just like making fancy soaps.
We're starting with oatmeal almond soap. Both almond and oatmeal are wonderful for your skin. Almond oil is rich in numerous skin-loving vitamins and is naturally moisturizing. Oatmeal is also a wonderful moisturizer. It also has a lot of great healing powers – anyone who has taken an oatmeal bath after a swim in poison ivy, or after a chickenpox attack as a kid, can attest to this.
GLYCERIN SOAP
Since this is the cake-box version of soap, there really isn't much I need to tell you. The steps include: melting the soap, adding the ingredients, mixing, and letting the soap harden again. It's that easy.
As for tools, you'll need a pot to melt the soap (or a large bowl if you do it in the microwave), possibly a large bowl or measuring cup for mixing, a spoon or two, and then a mould or pan. Now, I suggest using tools that you don't use for food. Safe, nontoxic, and organic, or not, I'd rather not risk getting soap into any of my food down the road.
Glycerol soaps come in numerous bases. You can get plain white, plain clear, and then both white or clear with various other ingredients, usually goat milk, honey, olive oil, or other oils. I have chosen to use a white goat milk glycerol as the base for this soap. Goat milk is another great moisturizing ingredient, so it will make this a super powerful moisturizing soap.
ADDITIONS
In this soap, we're adding almond oil, plus ground almonds and oatmeal. The almond oil will make sure this soap is extra moisturizing and nursing. The ground almonds and ground oatmeal will not only add moisturizing benefits, and added minerals, but will help exfoliate the skin. When adding heavy ingredients like this to a soap, it's a good idea to look for a brand of glycerol soap that is made for suspending ingredients, otherwise they could pool to the bottom of the bar, instead of remain suspended throughout the soap.
You'll also see this recipe calls for toasted almonds. The reason is to keep the almonds from going rancid, or at least to help delay that process.
YIELD
Like almost all food recipes, this recipe is scalable. I work with 1 pound of soap as a base and go from there as it's easy to work with, and most glycerol soap is sold by the pound. I find, in a 9 x 4 inch mould or pan, this will make about five, 1/2 inch tall soap bars.
Homemade Oatmeal Almond Soap
Prep time 30 mins
Total time
30 mins
Makes: 4 bars
Ingredients
4 ounces rolled oats
2 ounces roasted almonds
1 pound goat milk glycerol soap (suspension formula)
1½ teaspoons almond oil
Instructions
Place the oatmeal in the food processor, and process until broken up into a rough powder, about 5 to 10 mins.
Add the almonds and process until the almonds and oatmeal are broken up into a fine powder, about 5 to 10 mins. Be careful not to over process or you may turn the almonds into almond butter.
In the meantime, melt the soap in a heavy-bottomed pot, over low heat, stirring constantly.
Once completely melted, pour the soap into a large bowl or measuring cup. Add the almond oil and the ground oatmeal and almond. Mix to ensure everything is evenly distributed.
Pour the soap into a mould or lined 9 x 4 inch pan.
Set the mould or pan out at room temperature to let the soap cool and harden, about 2 hours.
After the soap has cooled and set, release it from the mould or pan and cut it into the desired number of bars.
For gifting or presentation, wrap the soap in parchment paper and tie it shut with twine.
Have you tried making soap at home before? Share your favorite varieties with us in the comments!